Grandparents Day is Sep 7th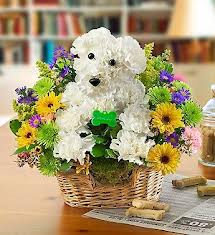 Send this adorable dog arrangement to your favorite pet lover! No occasion necessary to let them know you're thinking of them!
Upcoming events.....

September 7th is National Grandparents Day! Show your grandparents how much you love them with the simple gift of radiant flowers! And don't forget to get them some South Bend or Godiva Chocolates!
Beginners Cake Decorating Classes start September 8th! Call to secure your spot today!
City Flowers wil be closed on September 1st in honor of Labor Day.